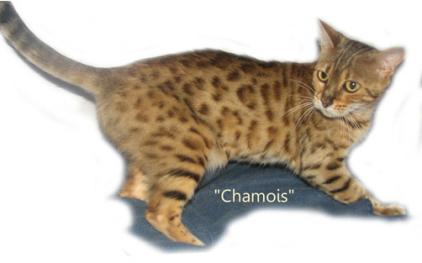 Avondell Bengals was founded  in 1993 with the goal of

establishing a family line  of cats who would reflect

our motto,

            "Temperament First;

           Leopard Beauty Always"

The Bengal as a breed has come a long way since those

early days, and the Avondell family has progressed as well. 

We feel that the cats we have today fully represent both

the sweet, gregarious  nature and the true leopard type for

which they have been carefully and selevtively bred for

these many generations.  We are proud to present them

here for your enjoyment. 

Please feel free to contact us with your

questions or comments.

While we love our Cashmere Bengals,

and still breed an occasional litter

of of both shortcoated and longcoated

Bengal kittens, our future focus is

on the development of  a new breed

we call the Snowcub.  We are working with

several breeders throughout the U.S. in the

development of this exciting new breed which

will encompass what we feel are the best traits

of the Cashmere Bengals enhanced by the

development of a cat of huge size, extremely

laid back and easygoing personality, the head

and body type and long thick tail reminiscent

of the wild Snow Leopard rather than of the

Asian Leopard Cat, huge polydactyl feet, and

glitter on every cat.  The Snowcub  is a completely

domestic breed reflecting no "wild cross" generations

and will be the cat of choice for everyone wanting a huge,

gentle natured, fluffy Leopard spotted kitty with big

"double paws"and a stunning glitter coat. 

"Cashmere" is the name for the long coated variety

of Bengal Cat, and the rich plushness of these self

grooming, semi-longhairs makes it easy to understand

why.  Because of the diversity of the domestic cats used

in the foundation of the the Bengal breed, the longhair

trait has always been present as a recessive gene in our

cats, tho some who like to see themselves as "purists"

prefer to think it is not in "their" lines (until, of  course,

one happens to "pop up" in one of their litters!)

Intentionally breeding for this trait is a fairly new

undertaking, but the results are most stunning -- especially

on a beautifully well contrasted coat with liminescent

glitter extending far down the hair shaft!

You're listening to

"The Cat"

written by

Sergei Prokofiev